With the high turnover of customer service personnel, customer service training is a must-have to maintain a dedicated and effective customer service team. A high turnover can lead to frustrated customers, which could cause negative company reviews or loss of revenue amongst existing clients.
Thus, engaging all customer service representatives through practical training will help your business save time and money spent dealing with underperforming customer service staff. These customer service training ideas can be used in call centers, retail, hospitality, healthcare, and other customer service-oriented industries.
1. Lunch and Learn
Give customer-facing professionals a chance to take customer service training courses by hosting lunch and learn sessions. This is an excellent opportunity for colleagues to discuss customer service issues and strategies. A lunch and learn is an effective way for staff members to share customer service training ideas and build camaraderie.
Advantages:
Lunch and learns can be easily incorporated into the work schedule.
You have more control over the customer service training session.
Time is not wasted traveling to customer service training courses.
Lunch and learns can be fun and engaging for staff members
Participants can enjoy complimentary meals (who doesn't want free food?)
Disadvantages:
Some customer service representatives may be unable to attend during their lunchtime
More time and resources may be needed to prepare for customer service training events
Companies may not have the budget or ideal location to host lunch and learns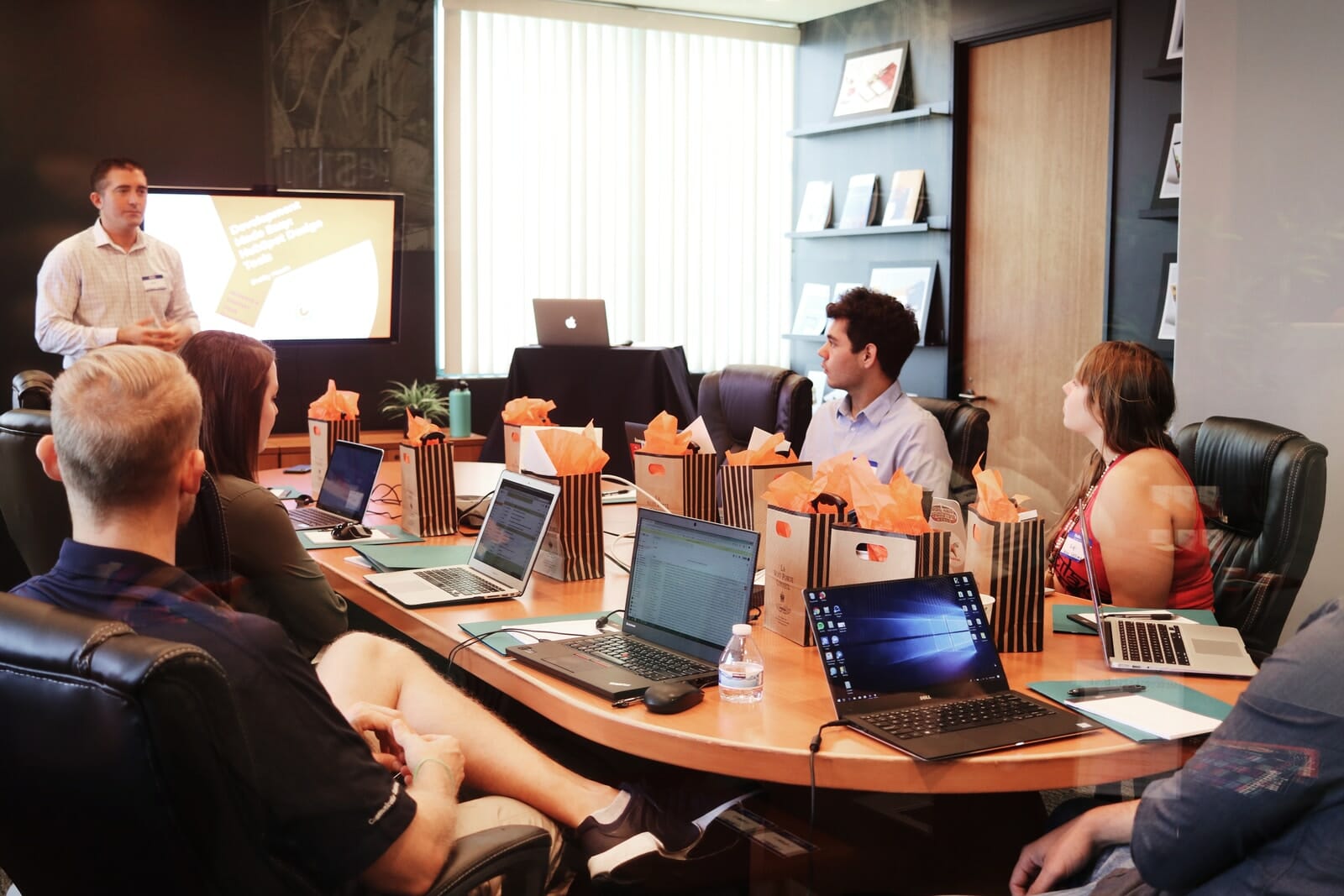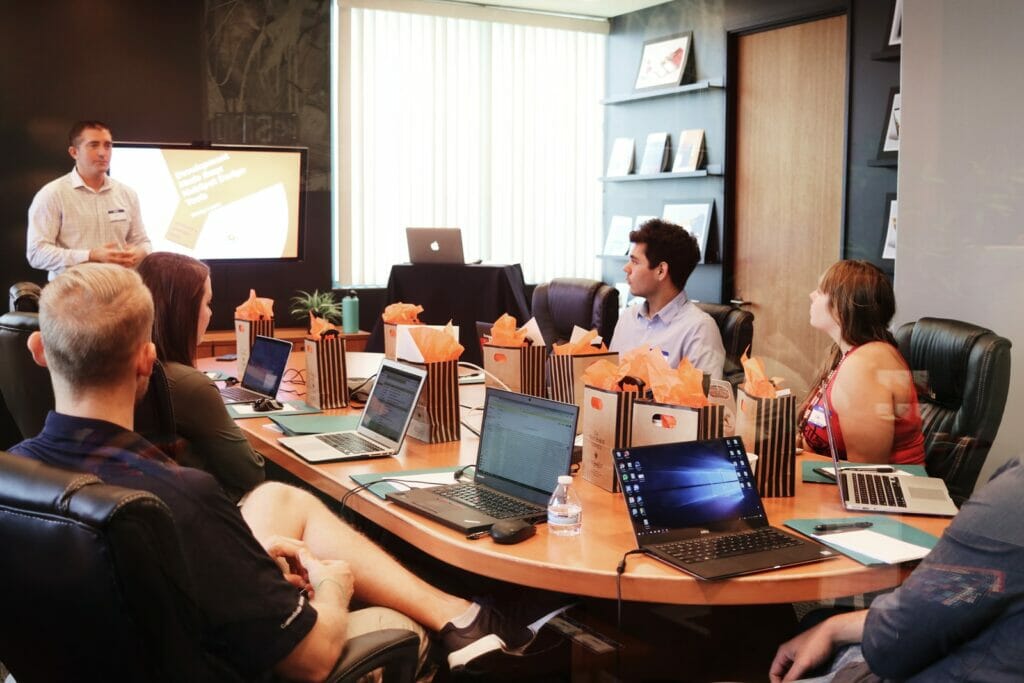 2. Train the trainer
To ensure customer service representatives are equipped with effective customer service skills, consider appointing senior staff to be in charge of customer training for your business. This will allow these employees to gain leadership experience while also learning more about customer service themselves.
Advantages:
Customer service managers are already familiar with the culture of customer service in your company.
You can avoid costly customer service courses by training customer-facing staff members.
Training time is flexible and can be set up based on the employees' availability.
Disadvantages:
Employees feel pressured about their performance due to direct observation by customer service managers.
Having managers host training takes away from their managerial duties.
Customer service managers may have training ideas, but may not have enough experience or skills to lead customer service training.
Video Conferencing Customer Service Training
Using video conferencing technology is one of the most cost-effective ways to provide customer service training sessions to customer support representatives all over your company. This is an efficient way for customer support managers to participate in seminars that would be hard to conduct if they were hosted in person because of geographic limitations. This is a great option for staff who work remotely or cannot attend training in person.
Advantages:
Staff can view customer service training from the comfort of their own home or office.
Training sessions can be conducted with any number of customer support personnel.
Staff can take part in training from any geographic location.
Disadvantages:
Individuals may not have a stable internet connection to attend customer service seminars via video conferencing.
Scheduled online training may be inconvenient if staff live in different time zones.
Customer support training may not be as engaging if customer service staff cannot meet in person.
Roleplays
Roleplaying is a great customer service training idea because it will allow employees to learn new skills by roleplaying customer service scenarios. This is a great way for employees to get familiarized with their roles and strengthen their skills based on real-life situations.
Advantages:
Customer support reps can get immediate feedback from their team members.
Roleplay customer service training increases employee morale and engagement.
Customer support managers can monitor customer rep interactions and provide suggestions as needed.
Disadvantages:
Customer support representatives may feel shy or uncomfortable taking part in roleplay training.
Managers may not get an accurate picture of employees' customer service skills.
Role-play exercises can be time-consuming if not well organized.
Customer Service Debriefs
Getting customer service reps together to talk about customer service issues is an integral part of customer service training. Employees can be trained to handle customer complaints, provide customer support in difficult situations, and more while sharing real-life experiences.
This will allow service staff to learn from one another while building camaraderie. Additionally, customer service managers can focus on building team dynamics and improving communication skills rather than delivering a lecture about customer service best practices.
Advantages:
Customer support representatives can gain valuable insight from their colleagues' experiences.
Managers can observe natural interactions between individuals and gather real-time feedback.
Employees might prefer organic conversation over roleplaying or lecture training.
Disadvantages:
Customer support managers may not like the informality of customer service debriefs and miss opportunities for correction and coaching.
Customer service training may be less structured than other types of seminars.
Informal conversions may lead to disagreements and debates that detract from the learning process.
Simulated training
Trainers can use customer service simulation software to allow customer support staff to practice their skills in an interactive, realistic environment. This will give their employees the opportunity to experiment with customer service concepts and techniques using technology.
Advantages:
Simulation software is an innovating customer service training idea that allows for unlimited scenarios, which can significantly increase trainees' learning curves.
Mock customer service interactions will allow customers to generate their own responses, increasing opportunities for reps to learn from experience.
Managers can observe customer support reps' spontaneous reactions and adapt the training as needed.
Disadvantages:
Customers service representatives may not feel comfortable with simulating customer interactions through technology.
Customer service training may lack the spontaneity and authenticity of real-life simulations.
This type of software may be costly and require special training.
Gamification
Trainers can create game-based learning experiences where customer service representatives work together to achieve specific goals.
For example, trainers can assign specific tasks related to launching a new product and reward points for completing them successfully. Trainers can also give out points for answering questions correctly, reaching certain milestones, or other planned activities. This will allow trainees to practice real-world skills in a low-risk environment while receiving immediate rewards for their performance.
Advantages:
This type of training can be fun and engaging for customer service representatives.
Trainers can motivate representatives by allowing them to earn points and receive rewards or recognition for their efforts.
Gamification of customer service training allows reps and managers the chance to work together, building teamwork and communication skills.
Disadvantages:
Customer support managers may find it challenging to create game-based scenarios that consider different skill levels and learning styles.
This type of training may take more time than others to prepare.
Customer service representatives may not take this type of training seriously if they feel that it is unprofessional.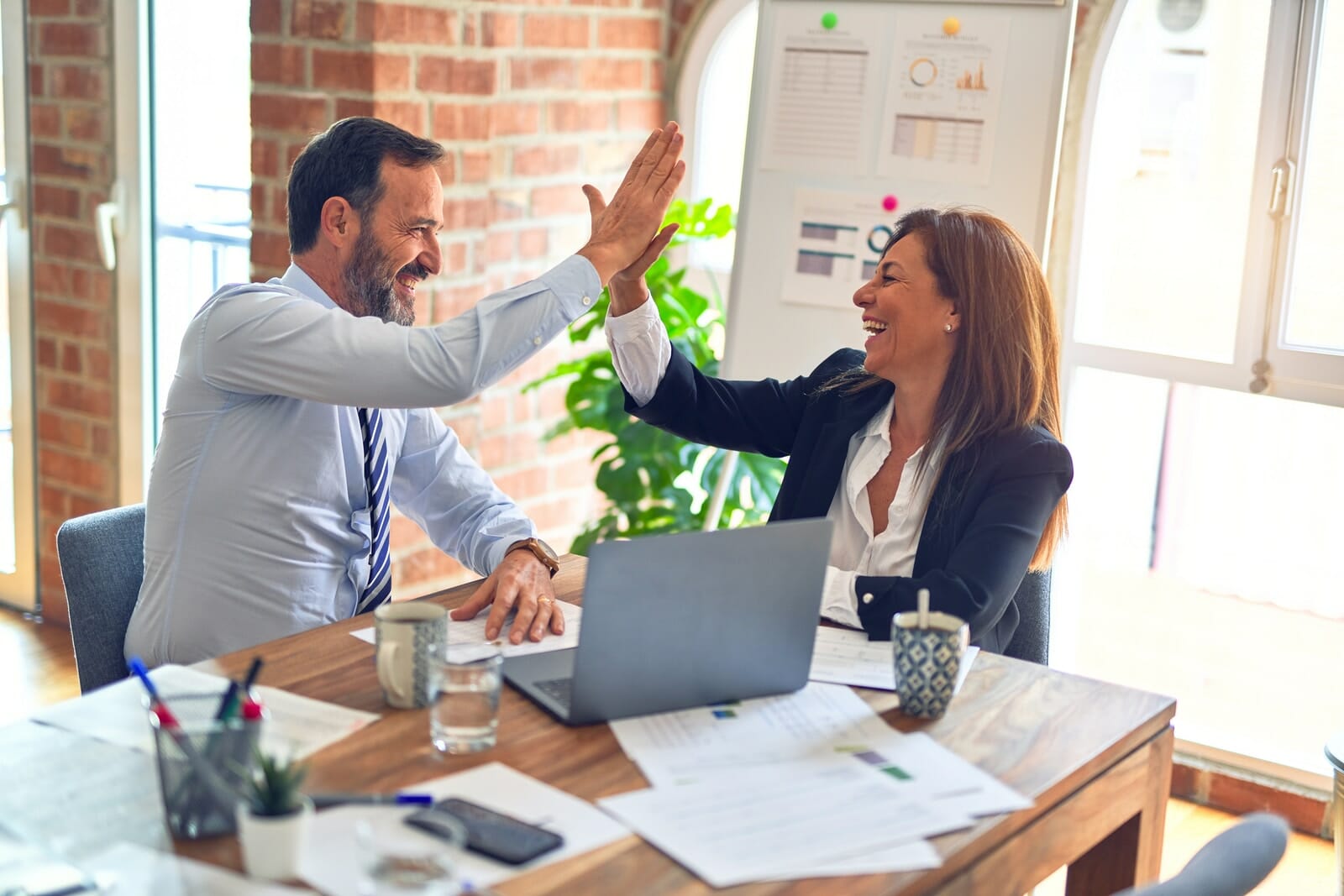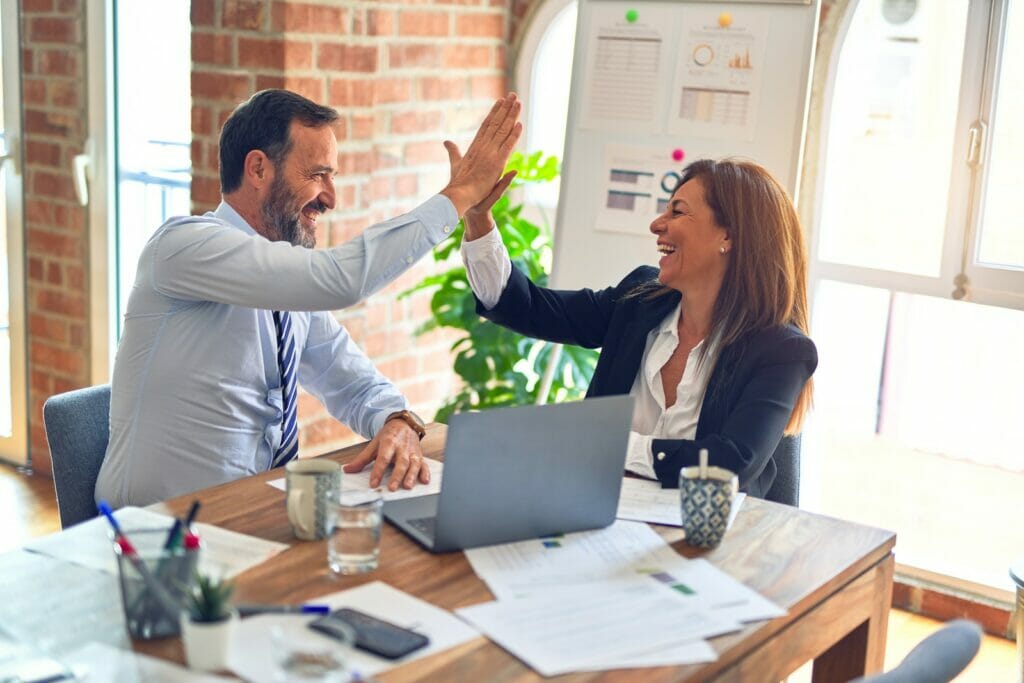 1-on-1 coaching
Customer service coaching allows one-on-one meetings between managers and their direct reports. This will enable managers to hear about reps' day-to-day experiences while allowing trainees the chance to ask questions and gain feedback from a trusted source. This customer service training idea is a practical option for smaller teams.
Advantages:
Customers service representatives can discuss issues and receive feedback on how to improve their performance.
Trainees can develop better relationships with management, which can increase trust and communication after training is complete.
Managers can adapt their coaching style to each representative's learning styles and preferences.
Disadvantages:
The cost of regular 1-on-1 meetings may be a financial burden for some companies.
Customer service representatives may not feel comfortable speaking to their managers about their concerns.
This type of training may take a lot of time and energy from managers' busy schedules.
Self-paced online customer service courses
Online customer service courses are an excellent way to learn and upgrade customer service skills for those who have busy schedules. Online courses allow representatives to study at a time and pace that works for them. Online training can be taken from anywhere in the world, still allowing trainers the opportunity to track their team's progress.
Advantages:
Customer support representatives have the flexibility to learn from anywhere with an Internet connection.
It is a budget-friendly option and ideal for those limited by geographical location or class schedules.
Learners can watch the lectures and complete the exercises as many times as necessary to master concepts and techniques.
Disadvantages:
This type of training is best for motivated customer support staff or those new to the industry with a strong desire to improve their skills.
Online learners may be distracted by social media or other online resources available to them.
Online courses may not allow for instant interaction with the instructor.
What should be included in customer service training?
1) A variety of training techniques
Customer service training ideas should include a variety of training techniques to keep the customer service representatives engaged and motivated. Including lectures, interactive exercises, and assessments is essential to provide trainees with the resources to understand customer service skills and concepts.
2) Up-to-date information
There's nothing worse than sending your employees for customer service training, only to find that the information on the syllabus is no longer relevant. It's critical to present current best practices while delivering training, ensuring that the trainees can use the new abilities on the job.
3) A chance for hands-on practice
Customer support representatives should have opportunities to practice their skills to experiment with new ideas and techniques. If employees are taking online training, they should be encouraged to apply their new skills on the job.
Hands-on experience can take a lot of guesswork out of real-world scenarios and help reps feel more confident using what they've learned during formal instruction.
4) Skill assessments
Customer service training should include assessments where trainees are required to demonstrate that they have learned the material covered in the course. Assessments may take many forms, including multiple-choice quizzes, written exercises, oral questions, or presentations. Trainers can also monitor progress during hands-on practice exercises.
5) Feedback
Another key element of customer service training courses is feedback. Feedback provides reps with an opportunity to assess their performance and understand how well they are applying new skills on the job.
Managers should be encouraged to provide feedback on their employees' performance on the job. However, it must be done constructively without infringing too much on the representative's work time.
Finally, customer support managers need to recognize when their teams need additional training or other resources to assist customers better.
What are some customer service training topics?
There are many options when it comes to choosing customer service training ideas and topics! Courses can include a variety of topics, from recognizing customers' emotional states to handling complex customer interactions. The following is a list of possible course topic ideas:
1) Customer service fundamentals
Customer service staff should master the fundamentals of providing exceptional service, including how to build a rapport quickly with customers and apply active listening skills. Customers want someone who will listen to their problems, so it's important to teach your reps the value of being an active listener and a good problem-solver.
2) Problem-solving
In today's competitive environment, customer support teams need to understand the importance problem-solving plays in providing exceptional customer experiences. Reps should recognize potential issues as they arise, ensure needs are met throughout the entire customer journey, and escalate concerns when necessary.
3) Communication skills
Communication can make or break a company's reputation with its customers. Teach communication skills that include effective email writing techniques, verbal communication protocols for phone and in-person conversations, and even essential public speaking tips. Reps should be able to interact with customers professionally and provide them with easy-to-understand information.
4) Teamwork within the organization
Training could also cover team concepts such as collaboration, conflict resolution, and decision making. It's important for customer support staff to resolve disputes in a timely manner. In addition, reps should understand that they aren't in this alone. They have internal teams at their disposal to assist when necessary.
5) Professional development
Customer service professionals are encouraged to go above and beyond their job descriptions to provide excellent service. Because of this, customer support teams need to have access to new learning opportunities. Training could include leadership programs, online courses, and one-on-one coaching.
6) Product knowledge
All customer support reps should have a strong understanding of the product or products they are supporting and insight into competitors' products. Product knowledge provides reps with an advantage when helping customers make purchasing decisions and increases their confidence on the job.
7) CRM training
Customer relationship management (CRM) platforms are key in today's customer service environment. Reps should be taught how to properly use these systems, including creating records, managing queues, and reporting. Depending on the product, training may also cover integrations with other tools. Equipping your staff with a customer service training manual can help them get familiar with new technical tools.
8) Social media customer service
Whether you have a dedicated social media team or customer service reps are managing social channels, it's important to understand the basics of how to communicate with customers on popular social channels. Representatives should properly engage on your company's social channels while providing a personalized customer experience.
Choose customer service training ideas that fit your needs
Ensure your customer service training is comprehensive and provides the essential skills to be successful.
Implementing customer service training ideas is a great way to ensure your reps are equipped with the necessary knowledge to provide excellent customer experiences. Customer service training is a worthwhile investment for any business that wants to establish an excellent reputation amongst its customers. And, of course, it's always good to give your reps the tools they need to do their job successfully!